The Doggie Detective Teacher Kit is for…
schools/teachers who want to deliver a bite prevention program themselves

humane educators for in-house or community outreach use

obedience trainers who want to educate their clients about safety around dogs

veterinarians who want to provide a community service

dog industry professionals who want to offer bite prevention programming to local schools or community groups
Contents of Be a Tree Teacher Kit
A set of 9 11″x17″ photographs of dogs showing various body language signals. Text of script printed on the reverse to prompt the presenter.

A set of 5 "tools" photos – also 11″x17″. These are tools for kids to put in their toolbox (in their head) – to help keep them safe. Text of script printed on the reverse.

A snarly dog photo – 11″x17″ – this is held up by a helper at random and everyone must stand stand like a tree.


A spinner – 12″ x 12″ – used after the first 15 minutes of instruction – the results of the spin govern the rest of the program.

Program script (delivered via download)


4 Simon Says cards

4 Scenario cards

Handout for photocopying

(delivered via download)



Program evaluation form – for photocopying

(delivered via download)



Video showing a sample delivery of the presentation

(delivered via download)




Tote bag to hold contents of the kit
Thumbnails of the Photos and Tools
The Spinner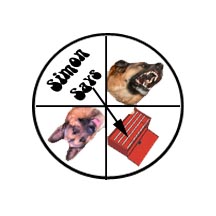 Use the spinner for activities after the teaching part of the session…
Snarly Dog – everyone be a tree
Panting Dog – everyone be a happy dog
Toolbox – volunteers act out a scenario – audience shouts out which tool to use
Simon Says – everyone plays Simon Says
Optional Powerpoint Version

You can purchase an optional Powerpoint version of the kit for a small additional fee when you buy the physical kit. We don't sell the Powerpoint on it's own, because let's face it, what kid wants to watch a Powerpoint presentation? Some schools insist on doing an assembly-type presentation for a large group of students instead of the more effective smaller group presentation in individual classrooms. We created the Powerpoint version to meet this need, but we recommend that you try to use the physical kit with smaller groups of 20-50 kids if you really want them to participate and learn as much as possible.
The entire kit is available as a download. This includes the Powerpoint and all the images you need to have the rest of the kit printed locally. The download is priced at less than the physical kit so that by the time you get the materials printed it costs roughly the same as if you bought the physical kit plus shipping costs. If you live outside the US and Canada, it will be less expensive to buy the download and have the kit printed locally since shipping costs are so high for international shipping.
Testimonials
Hats off to the best educational package I have seen in years and a great public service that goes a long way to getting the message out about dog bite prevention and working toward eliminating dog bites to our children.
Lisa Grey – Canine Behavior Consultant and Specialist; Bite Prevention Educator with BCSPCA (former); Senior Trainer – Canines with a Cause; Senior Instructor – Adolescents at Risk and Canines Ontario; Owner Natural Bond Canine Consultants, Ontario, Canada
My experience as a classroom teacher of 35 years taught me that children learn by doing, practicing and playing. This program is a great teaching tool. Lots of role playing and repetition until the children have a patterned response to an aggressive dog. Fast paced and fun.
Sherri Utter, Retired Elementary School Teacher; Animatch Volunteer, Quebec, Canada
As a Canine Behavior Consultant and Special Education Teacher, I am very impressed with the Doggie Detective program. This fun and interactive program involves kids every step of the way as they learn the tools to make safe choices around familiar and unfamiliar dogs. I am impressed when I return to the classes several weeks later and the kids still remember all of the tools and can tell me some things that dogs do that indicate they may be stressed. This program empowers kids to make better choices through awareness and education. The Doggie Detective teacher's kit comes with beautiful clear poster-sized photos that are helpful for teaching children and adults alike. The easy-to-follow script is conveniently printed on the back of each poster to help the presenter stay on track and be at ease during their presentation. This really helps to minimize tangents and stay focused on the key points of the presentation.
Jennifer Shryock, Canine Behavior Consultant, Creator of Dogs & Storks Workshop, Cary, North Carolina